Recognized as one of the world's most innovative companies, Tradeshift is on a journey to revolutionize the future of global B2B marketplaces. Headquartered in San Francisco, with 1000 people employed across a global network, Tradeshift provide fintech and B2B SaaS solutions that digitize trade at scale. They enable a global network of 1.5 million buyers and sellers to access supply chain payments, B2B marketplaces and apps through their innovative technology. For more information visit www.tradeshift.com. 
The development of a best-in-class marketing leadership team has been instrumental in turbo-charging Tradeshift's next phase of global growth. 
Under the leadership of visionary CMO, Smita Gupta, Tradeshift appointed New York marketing recruiters, tml Partners, to deliver a global search mandate for five leadership hires: 
Global Head of Growth Marketing & Demand (Senior Director), USA

Head of Regional Marketing, USA

Head of Regional Marketing, EMEA

Global Head of Partner Marketing 

Global Marketing Strategy & Insights Lead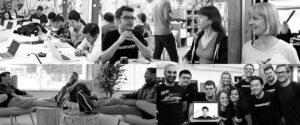 Charlie Green and Malisha Patel are senior members of tml Partners' global fintech marketing recruitment practice, and hold proven track records recruiting leadership roles in the US across New York and San Francisco, in addition to marketing appointments across Europe. The team partnered with Tradeshift on an exclusive basis to successfully deliver the appointment of all five leadership positions. 
These leadership appointments have been instrumental in establishing a growth marketing centre of excellence, with the development of best practice across field marketing, product marketing, digital, demand generation and partner programmes globally. 
Smita Gupta shared her experiences working with tml Partners: 
"tml Partners has successfully supported Tradeshift to develop a global marketing centre of excellence, with five key leadership appointments across our global marketing team – including a Senior Director of Growth Marketing, Global Head of Partner Marketing, Head of USA Marketing, Head of EMEA Marketing, and Senior Strategy and Insights Lead. 
Working with Charlie Green and Malisha Patel, and the whole leadership team at tml Partners, has been a superb experience from beginning to end. Their expertize in strategic marketing combined with an amazing network in the USA and Europe is evident from the outset. Charlie and Malisha invested time to get to know our business, our culture and super ambitious growth strategy, and when needed they worked 'around the clock' to source ideal talent for our new global team. With regular updates, the team are always accessible and highly professional & consultative in their approach.  
I would be happy to recommend Charlie and Malisha to any hyper growth Fintech and SaaS business developing their global marketing & communications teams, and I look forward to building on our close partnership in the future."
Smita Gupta, Tradeshift, CMO  
tml Partners is a global executive marketing recruitment firm specializing in board level appointments across marketing, business development and corporate communications. With a dedicated focus on New York marketing recruitment and leadership hires across USA, Malisha Patel is currently partnering with high-growth clients in financial services, namely in fintech and payments, to support the best in class development of in-house marketing, product and digital teams. Charlie Green specializes in global CMO and Marketing Director appointments across USA and Europe.
To learn more about how Charlie, Malisha and the team at tml Partners can support the growth of your marketing function please get in touch at charlie.green@tmlpartners.com