In recent years we've seen a drastic increase in the number of tech and fintech businesses that are looking to bring on board experienced product marketing specialists. The traditional business model of build – market – sell is being eroded and the most successful organisations in this space, those that are increasing their market share and growing rapidly, have behind them a strong product marketing team.
Product marketing brings the customer front and centre. This is not a new strategy and we've of course seen a pivot towards customer-centric marketing across all sectors. However, it is more complex than simply having a customer focus. In this article from Malisha Patel and David Zaranka in our tech team, we look at what the role of product marketing entails and how it gets successfully embedded in a business.
What is product marketing?
In its simplest form, it's knowing the customer, but what does that really mean? It means understanding customer needs and making a product resonate to lead to sales. To achieve that product marketers need to understand the voice of the customer, what drives a purchase and also what drives use after purchase. This is achieved through a combination of market research, campaign planning, careful messaging, lead generation and sales enablement.
How does product marketing fit into a business?
Given the name, product marketing, there is often some confusion as to where this unit sits within a business. Does it come under marketing or product management? Then when you drill down into the actual role, should maybe it sit within sales? The most successful placements that we have seen act as a hybrid, a go-between for all three departments. We spoke to Fausto Amoroso, a Freelance Marketing Consultant who commented "if product marketing is left to the marketing team to look after, they usually don't have the right skills set and it doesn't get the attention it deserves". Product marketing's deep customer insight is of huge value to marketing, product management and sales, so a successful product marketer will have a voice in all these areas and inform product development, marketing strategy and sales tactics.
Achieving high growth through product marketing
B2B product marketing at its heart is about messaging and presentation. A product needs to 'fit' with its audience and to achieve this, product marketers need to carefully identify target audiences, then understand customer personas and monitor language. With this insight, marketing messaging can be formulated. Speaking to the market, we honed in on three key areas that make product marketing successful:
Empathy – deeply understanding the customer, walking in their shoes
Education – demonstrating industry expertise through marketing messaging, securing conversion and retention
Iteration – being agile and adapting to the rapidly changing business landscape and customer needs
It's easy to see why the most successful roles work across departments rather than being siloed. The product, marketing and sales teams all stand to benefit vastly from the insight product marketers can deliver.
Fausto Amoroso also highlights: "in technology product marketing is crucial. So often tech companies fail to focus on align the product to the needs of the customer. You get this right and the brand and comms can follow – you can't communicate with your customers if you don't know who they are, what they need and the language they speak."
Skillset of a product marketer
A successful product marketer has quite a broad skillset. Strong analytical skills and the ability to mine information and identify the important factors is essential for the market research needed to understand the customer. Depending on the division of responsibility with the marketing team, a product marketer will also need to identify segments and develop strategies to reach those targets as well as develop messaging based on customer needs. Then they also need the commercial acumen to work with  the sales team on approaching, converting and retaining clients.
In more traditional B2B organisations, we've noticed that the most successful placements will have a strong level of influence. They have the ability to change traditional mindsets and embed a customer-centric approach.
Given the hybrid nature of the role and the crossover with other functions, the ability to collaborate is the most important skill. Bringing business functions together and sharing information for the benefit of the business will lead to the best results. They should also have a long term vision, "product marketers need to be accountable for the growth and commercial success of a product just like the sales team. They need to view their responsibility beyond launch and help to manage the overall success of the product line" says Tobias Lee, CMO of Guardian Life, USA.

This image by the Product Marketing Alliance, shows how much time product marketers tend to spend collaborating with different functions in a business.
Conclusion
There has been a wave of digital transformation across B2B, and especially in the tech and fintech space. This was in motion prior to the pandemic, but has certainly been accelerated in 2020. Product-led companies therefore need to pivot their strategy to incorporate product marketing if they haven't as yet, as their competitors are most likely already there.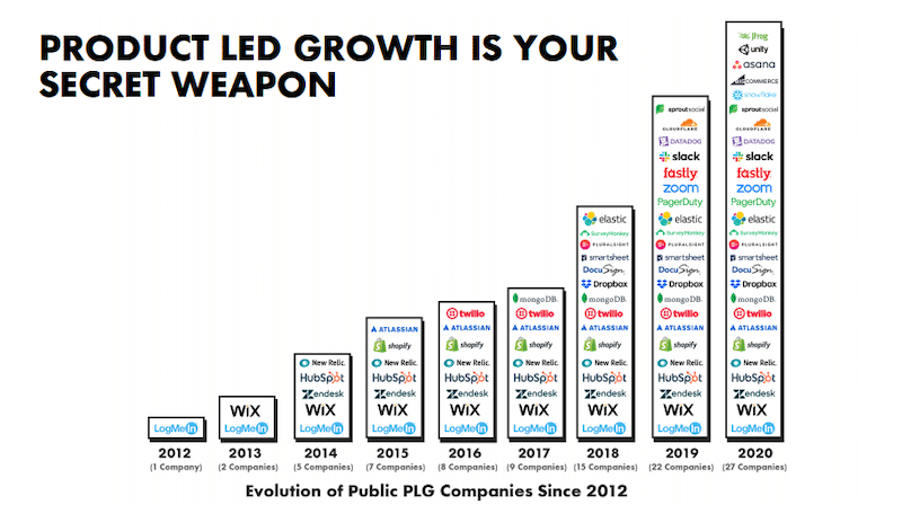 (source: https://openviewpartners.com/)
"Product Marketing is a tricky job title but an exceptionally important job. The noise on growth platforms, and in paid marketing has become unsustainable, so the best way to differentiate in the noise is through positioning and creative. Who bridges market research and brand? A PMM. Who understands the value the product delivers and weaves the story for marketing materials? The PMM. Who works with creatives and copywriters on ads? The PMM. It's no wonder B2C and B2B businesses have started to realise the importance of this marketing function" comments Natalie Malevsky, Product Marketing Specialist, tru.ID, formerly of Culture Trip and HyperJar.
This thriving discipline is attracting some of the best marketing talent who can really drive results for the businesses in which they work. At tml Partners we are seeing this amongst many of our clients across sectors including traditional B2B insurance and professional services – it's not just limited to B2B Tech and Fintech.
tml Partners is an international executive marketing recruitment firm specialising in board level appointments across marketing, business development and corporate communications. Malisha Patel and David Zaranka are currently partnering with high-growth clients in tech and fintech, to support the best in class development of in-house marketing, product and digital teams.