Nutrisure is a market leader in the superfoods space. They appointed tml Partners to undertake a bespoke Marketing Manager search.
Background
Founded in 2006, Nutrisure quickly and firmly established a good reputation as a wholesale supplier, and have since evolved and grown to produce 2 major retail brands – Naturya, a market leading superfood retail brand in the UK and Funktional Foods. Both brands are stocked in a wide range of major multiples and independents.
The growing focus on a healthy lifestyle and diet is driving the demand for superfoods and superfood powders which are rich sources of antioxidants, polyphenols, vitamins and minerals.   These are used by consumers as ingredients in baking, smoothies and overnight oats, for example. There is also a growing trend for manufactures to add superfood ingredients not only into food products but also into beauty and personal care products.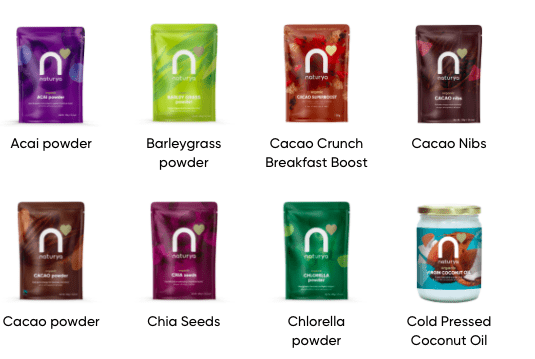 There are many, many opportunities in this space. Nutrisure has grown to such an extent they needed a strategic marketing approach to manage and grow not only their existing brands but several new exciting projects.
Emma Calder of tml Partners engaged directly with company founder Martin Kemp, to carry out a bespoke search.  The brief initially was to find a classically trained, FMCG food marketing professional  with a strong track record in performance marketing, brand strategy and retail channel management.  Ideally, they would have already had some experience working in an SME or start- up environment and would therefore be used to working in a fast- paced and agile manner – as the business would demand. The role also needed to be based in Bath near the site of production.
tml Partners bespoke search
Utilising both the tml Partners existing network of senior marketers in the FMCG space and a comprehensive search and selection process, Emma was quickly able to identify a shortlist of marketing profiles to share with Nutrisure.   Partnering closely with Martin and the chosen candidates, we were very quickly able to move through a 3 stage interview process, all conducted during the peak of the Covid-19 crisis, and which ultimately culminated in the hiring of 2 Marketing Managers, due to the strength of their profiles and complementary skills for the business.
'I had a great experience with tml Partners who placed me in an incredible role quickly and smoothly. From the introduction call through to the offer, the communication was great. Emma clearly cares about her clients (both the employer and the applicant) and works hard to build the right relationship and insure all concerns and questions are covered – taking the time to really understand the needs of all parties. Highly recommended recruitment partner!' – Lewis Black, Marketing Manager, Nutrisure. 
'I've worked with tml's consultants on a couple of contracts now (as a candidate) and always been impressed by their professionalism, integrity and the thoroughness of their briefings. Would not hesitate to work with them again.' – Paul White, Marketing Manager, Nutrisure.
About tml Partners
tml Partners is an international executive marketing recruitment firm specialising in senior marketing appointment up to board level, across marketing, business development and corporate communications.  Emma Calder is currently partnering with high growth FMCG and Retail clients to support the best in class development of in-house marketing, innovation, communications and digital functions -working across both permanent and interim briefs.
To learn more about how Emma and the team at tell Partners can support the growth of your marketing function, please get in touch at emma.calder@tmlpartners.com