Our specialist consumer marketing recruitment division recently partnered with The Cookaway to place their new Senior Brand Manager
Founded in 2019, Sahil and Nidhi Verma have built The Cookaway – premium recipe boxes crafted with high-quality, authentic ingredients – to bring the experience of travel and the discovery of new cultures to your kitchen. Aimed at highly engaged and skilled home cooks wishing to expand their cooking repertoire, The Cookaway offers over 180 indulgent recipes from 8 world cuisines which are perfect for any food lover.
The Challenge:
The Cookaway wanted to find an agile brand marketing professional who could work efficiently in a fast-paced start-up environment. The brand has ambitious plans to significantly scale the business by focusing on various acquisition levers. With a re-brand on the horizon, it was also important to find a well-rounded marketer who would be able to give crucial support around the re-launch and manage agency relationships.
The Solution:
Working closely with the team at The Cookaway, Charlotte Brownlow, a specialist in consumer marketing recruitment, gained a deep understanding of the brand's goals. Charlotte focused on finding an individual who can support brand development but with a creative approach to growth marketing. Shreya Lahkar was successfully appointed as The Cookaway's new Senior Brand Manager.
Shreya has an impressive brand background, building brands such as Joone and Vagabond. A creative brand marketeer who is passionate about developing strong, emotive brand stories to grow brand recognition and loyalty, she will lead an in-house team and external agencies to successfully cement The Cookaway's brand story and fuel its ongoing success.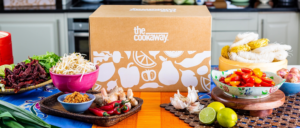 Shreya commented: "Looking for new opportunities can be super challenging but working with Charlotte was just incredible. As a first step, she really took the time to get to know me and my portfolio. Only then did she recommend what she believed would be a good fit for me. She also gave me some really good feedback on my CV, presentation and overall process which was so supportive and helpful. From then on she always made sure I was constantly updated about my application, no matter what time of day it was. I feel like working with her has shown me how with the support of caring, patient and thoughtful recruiters, the job search process can be made a lot less intimidating and just more fun in general".
Who are tml Partners?
tml Partners are a specialist marketing headhunter with access to a global network of marketing leaders.
Our consumer marketing recruitment specialists have the expertise to support global brands whether they're seeking interim or permanent solutions.
To see how tml Partners can help you, please get in touch with Charlotte Brownlow: