The coronavirus pandemic left no business untouched. This includes asset management firms, who by their very nature have a vested interest in the performance of all types of industries. Alongside inevitable business interruption, this crisis has also left ample time for firms and clients to rethink strategies, priorities and principles. Perhaps the most visible example of this can be found in the ascendant environmental, social and governance (ESG) funds that have risen steadily over the past 18 months. In the UK, inflows into active ESG funds reached a record £392m in September 2020, taking the quarterly total to £1bn, according to data from funds network, Calastone.
In a recent survey, PwC predicted that European assets, in a best-case scenario, will be made up of up to 57% ESG investments by 2025. That is three times the percentage in today's market, which sits at around 15%. This projected change is not solely for reputation's sake, but this also seems to be an exercise in hedging where the best long-term returns shall be found. And after all, who doesn't want to invest in a "sustainable" future?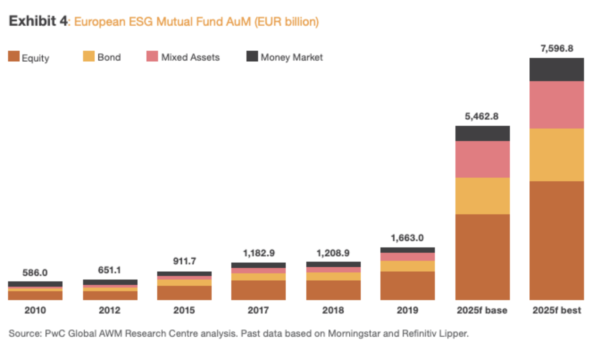 Picture Link: https://www.pwc.lu/en/sustainable-finance/docs/pwc-esg-report-the-growth-opportunity-of-the-century.pdf
Institutional Investors are the fundamental drivers behind this change. More than three-quarters of a 300 sample of investors, including pension funds and insurance companies, surveyed by PwC, said they would stop buying conventional funds in favour of ESG products by 2022.
How can marketing support such growth? 
One of the many ways in which firms are pivoting to ESG-centric marketing is through content. In this particular sector, content has always been king. It is a smart and effective way to convey not only the latest developments in ESG but also underpin and reaffirm core values.  What is clear from clients we have been speaking to is that, in order to stand out in this increasingly busy asset class, thought-leadership and accessible content in tandem create the best ingredients for successful ESG marketing. To be able to properly take ESG to market, however, there needs to be a consensus around what funds will make the cut.
Ben Thompson, Managing Director of Marketing Drive, a specialist ESG and Sustainable Marketing and Communications Consultancy, had the following feedback: "The biggest barrier continues to be the lack of an industry-wide definition of what constitutes an ESG investment."  
Research carried out by Foresight Group earlier this year and published in its white paper "Making inroads: Challenging preconceptions and overcoming barriers to ESG and sustainable investment" shows that despite the momentum within the asset management industry towards the greater adoption of ESG principles, confidence in what these principles mean is lacking and many investors – and even advisers – remain unsure of the distinctions. Some advisers believe it amounts purely to negative screening – i.e. avoiding companies that might be considered unethical, typically companies involved in tobacco, animal testing and weapons. Others demand demonstrable positive impact, particularly in relation to the environment. Either way it helps to have a thorough understanding of the motivations and needs of financial advisers and consultants as well as investors.  
Asset managers need to be able to demonstrate the impact their funds are making, so clear and consistent performance criteria are critical.  There is a continuing theme that pursuing ESG strategies can mean compromising on performance – in the Foresight research advisers indicated that few of their clients are aware that there is a proven positive relationship between corporate ESG scores and financial performance, or that funds with a commitment to ESG are outperforming non-ESG funds on a risk-adjusted basis. Only 4% of advisers claim that the majority of their clients recognised this performance.
 Perhaps most importantly, marketers need to express urgency when it comes to socially responsible investing and other impact investing strategies and products. Climate change, after all, is one of the world's most pressing challenges. Financial marketers should emphasise the role that investors can play in addressing this challenge. Positioning sustainability at the centre of how people save and invest for their financial futures can pay dividends for generations to come.  
As David Butcher, MD and Founder of Communications and Content, concisely puts it, "ESG is a material part of almost every product managed by every business in our research universe. Perhaps if businesses listen to readers more they'll get the ESG balance right."
tml Partners is an international executive marketing recruitment firm specialising in financial services. Seb Wainwright and Emma Morrison partner with leading brands across asset and investment management – to support the best in class development of in-house Marketing, Communications and Digital expertise. For more information and to discuss the growth and structure of your marketing function, please get in touch.