Over the last few months, it has been really positive to see organisations continuing with business critical Corporate Affairs recruitment. As we move into recovery mode our clients are beginning to think about what their optimised corporate affairs function needs to ensure success for 2021.
Naomi Hamilton from our Corporate Affairs practice hones in on seven key in-demand specialisms, that will be high on the agenda for 2021 and beyond.
Internal Communications
Strategic communications
Digital communications and content
Mental health and wellbeing
Reputation management
The contractor
Increased hiring from outside your sector
1) Internal communications 
We have seen internal communications and its importance grow massively over the last few months. Entire businesses moving to remote working has resulted in not only the adoption of new ways of communicating with their employees, but also a much more thorough way of communicating.
In some instances, businesses have been fortunate enough to have a robust internal communications function, but many haven't. It is unlikely that previous working practices involving everyone working from a company office will ever resume, therefore the need for communicators with experience engaging with a disparate and remote workforce will increase.
2) Strategic communications
In my time working with corporate affairs professionals, a recurring topic is the position of corporate affairs as the strategic advisor. The platform communications professionals have had throughout C-19, for example providing counsel to the senior leadership team and advising across an entire business, means that there is an opportunity to cement the position of corporate affairs as a strategic advisor.
Our networks have specified that they would be particularly looking for communicators with a strategic mindset and experience of working across longer term campaigns, when hiring into the team.
This is something we discussed at great length at our 'Managing reputation across sectors' roundtable, and found that for corporate affairs to effectively drive strategic communications they need to have line of sight across an entire business (see below image). Communicators with the experience, and ability, to communicate effectively with a wide range of stakeholders will be highly important in the coming months.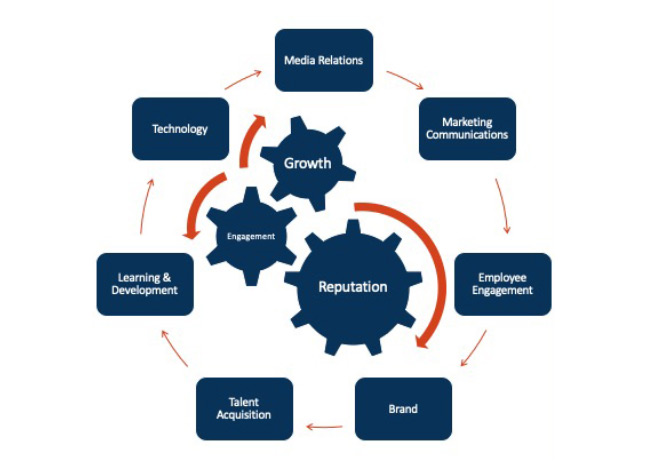 3) Digital communications and content
Unsurprisingly the usage of digital has increased dramatically over this period, with new channels being implemented, adopted and utilised in a matter of days; something which would ordinarily take months. Corporate affairs now has the platform to build on this and grow their engagement and digital presence. Developing a robust digital strategy to continue engagement with audiences is high on agenda, not only for communications, but for the senior leadership team too.
Trust in an organisation's messaging has come second to health during CV19 (Edelman Trust Barometer special report on Covid-19). This means that there is a heightened importance for an organisation to engage with their audiences in their own tone of voice. To successfully communicate across digital channels, businesses will have to hire inhouse drivers of digital communications.
Digital communicators and content specialists have to network across a business to map key stakeholders, whilst communicating the benefits of building an online presence. They will use a mix of quick wins and longer-term strategy to bring the business on the journey with them.
Many of our clients have said that they will be looking to hire communicators who think about content with an integrated approach, developing and delivering holistic content strategies so as to leverage off of the widespread recent digital transformation.
4) Mental health and wellbeing
Communicators with experience working across mental health and wellbeing initiatives will be increasingly sought after. The last few months has seen business leaders and corporate affairs focus strategy on the wellbeing of employees.
Our clients have expressed that CSR, wellbeing and diversity initiatives are things their corporate affairs function, in partnership with HR, will be expected to drive and develop a robust and adhered to policy.
Employees have an expectation of the company they work for, to care about the wellbeing and mental health of its employees. Over the next six to twelve months, corporate affairs will want individuals with experience of shaping and leading communications on mental health and wellbeing policies. Companies need to get this right first time, and as policies evolve corporate affairs will need to continue to communicate them with employees.
5) Reputation management
Many different factors fall into the reputation of the business. Expectation to communicate purpose driven initiatives has increased over the last few years, and even more so these last few months.
Businesses will increasingly seek to use strategic and digital communications to better their reputation. They will be expected to communicate on issues such mental health and wellbeing, diversity and inclusion and CSR which will feed into the reputation of an organisation.
Communicators with experience of embedding purpose centric campaigns throughout a business, and communicating these to external audiences, will be sought after. For this type of communication to be effective and help with reputation, audiences have to believe that it is genuine.
6) The contractor
First and foremost, the level that communicators have been operating over the last few months has been almost non-stop, which means that many are reaching a state of fatigue. Our clients have said that they would look at hiring a contractor to ease this and act as an extra pair of hands.
Secondly, some of the skills above may be needed on an interim basis but not permanently. Our clients have said that they will look into bringing in a contractor to help ease the pressure of the permanent team, do an audit and develop a strategy to then be handed over to permanent members of staff.
7) Increased hiring from outside your sector
We expect that there will be an increased movement between industries so that the way businesses communicate continues to be innovative, as many have had to be over the last few months. We are advocates for corporate affairs as a skill set that can be adapted to many different sectors and when looking forward. Our clients see the opportunity to drive forward and implement new or newer initiatives by hiring outside the sector. Not only this, but some industries such as tech or pharma are under increased pressure, and as a result, to have a greater talent pool they will have to be more open-minded. Drawing parallels across sectors; working for a global, heavily regulated, growing, complex or ftse listed businesses, for example, are solid tangibles to make a communicator's experience relevant for different industries.
In summary
The skills and ways of working listed above are not new, but simply areas of focus that we expect to see over the next six to twelve months. Some organisations will look to up-skill their existing teams internally, but there are many that will have to look outside of their organisation and bring in new talent. We expect that corporate affairs will utilise senior communicators to continue driving the position of communications as a core business function and strategic advisor.
Naomi Hamilton is a member of tml Partners' Corporate Affairs practice. She specialises in the recruitment of corporate affairs, media relations, external communications, and partners with leading organisations to support interim and permanent placements at all levels. tml Partners is an international executive marketing and communications recruitment firm, specialising in senior appointments across the communications function.
To learn more about how tml Partners can support the growth of your communications function or any upcoming projects, please get in touch.
For information on the reports referenced please see Edelman Trust Barometer Special Report Covid-19 and to see the full report from our 'Managing reputation across sectors: in industry experience necessary' roundtable.