The year 2021 has a lot to live up to. Rather unceremoniously, in the UK it started in the midst of another lockdown. Whilst this may have yet again confined many of us to our homes, a unique side-effect has been interesting to watch unfold.
The rise, or rather 'rebirth', of the retail investor has unsurprisingly coincided with a full year of individuals stuck at home, some with more disposable cash to hand than usual and others looking for alternative ways to raise money. To add to that, there has been more time for novice investors to get clued up about the investing landscape in more depth and increased accessibility with digital platforms allowing individuals to make investment decisions at the touch of a button. A powerful combination that legacy firms are acutely aware of. Seb Wainwright, Consultant in our Financial Services division, looks at the impact that this boom has had on marketing in this industry, and how firms are resourcing to compete for market share.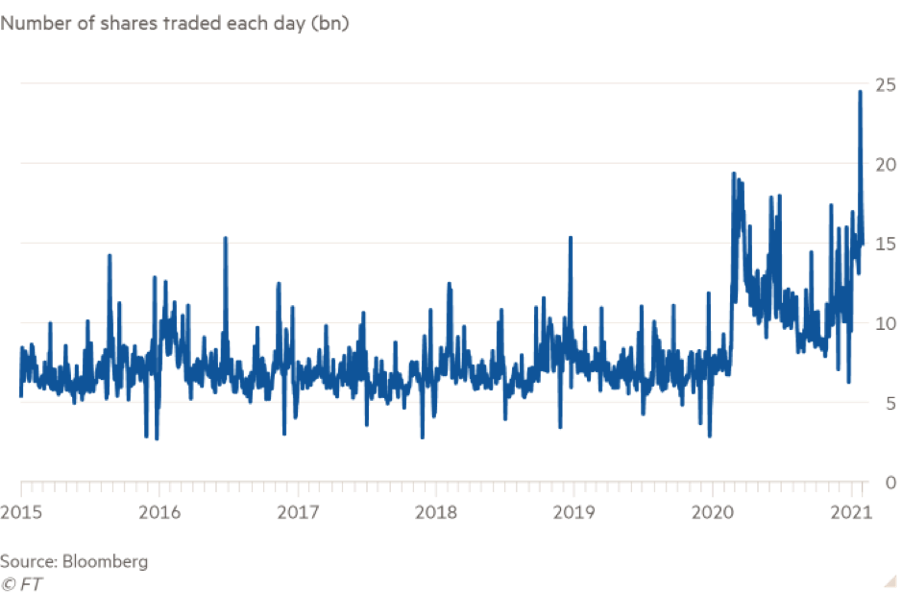 Picture credit: https://www.ft.com/content/e4f9100e-7ef6-4807-89f9-4015db1750fd
From a UK perspective, there are now more than 6.5m retail investors, up 15 per cent from 5.7m this time last year, according to Boring Money's estimates.
Hargreaves Lansdown added 188,000 new clients in the first half of 2020, 43 per cent more than in the same period in 2019. AJ Bell added almost 63,000 customers in the year to 30th September 2020, growing its platform by 29 per cent. The average age of people taking out accounts for the first half of the financial year was 37 years old, Hargreaves Lansdown reported. That might be the current state of play with historically strong retail investment firms but what about the others?
From a marketing standpoint, the options to capitalise on this resurgence are vast when compared to an institutional audience. Whereas institutional clients can be nurtured through thought leadership and events which naturally contribute towards longer lead times, retail investors use a myriad of digital touchpoints which translate to faster conversions.
"As a result of consumers perceived to have more time at home due to the pandemic, and capacity to read more on-line, asset managers are having to transform their digital presence and engagement", says Neil Fatharly, Managing Director of GHV Consulting. "As well as the various platforms being pursued more aggressively to engage with retail investors, like Facebook and LinkedIn, a few are actually addressing the 'reading-age' of their written output.  Some fund managers are very proud of their academic acumen when they 'publish' but this will not attract the retail investor back and embellish 'trust' in their product."
Another very important aspect of the retail investing boom to consider, to bring the conversation back to digital, is acquisition. The acquisition of customers, both experienced and budding investors, is key for long term success in a realm where app-only propositions have taken a sizable market share. Just as important is retention. It is one thing to bring these customers on board but another thing entirely to ensure the proposition and marketing is strong enough to drive lasting customer engagement.
As the retail investing space continues to expand thanks to the current renaissance, it is up to marketers to showcase their organisation's consumer proposition to a willing audience that typically do not put all their eggs in one basket. "There is little point showing it if you can't back it up with the right experiences and services" says Colin Bennett, Global Head of Digital Distribution at GAM. "An archaic or legacy approach will soon get flushed out and even if it could participate it would fail the scale test."
"However, regulation will hit social hard – new ESMA (European Securities and Markets Association) guidelines coming in and others such as SEC focus on retail investing etc. It needs a personalised touch and that probably comes through community building and supporting people whilst opening up and establishing communication channels that are most suitable. It has got to be hybrid digital/human as the personal touch still counts at the point you need it."
To this end, legacy firms are having to look at their entire marketing skillset in order to keep up with the more agile and accessible digital platforms. This in turn will lead to both an expansion of hiring marketing talent across multiple verticals in financial services and a concerted effort to upskill existing members of the function already in situ. The alignment of marketing and IT departments will be crucial to achieve this and so firms will be looking for talent with a strong digital focus to fill this knowledge gap. Conversely, it is right to say that the new digital platforms open up new opportunities for financial services marketing professionals to reach at-home investors where before this may have been somewhat limited due to the issues mentioned above.
In a 12-month period filled with uncertainties, the widespread and diverse nature of retail investing is certain to reap rewards for both customers and the marketers who service them.
For more information please contact Seb Wainwright.