During 2020, COVID highlighted existing weaknesses in businesses, accelerated planned changes and drove the development and implementation of new value-creating change programmes. Leaders gained more experience of delivering change in a period of a few months than in the preceding few years and that created new perspectives. Some enjoyed the experience, others became exhausted, but there is a common thread – a track record of successfully implementing crisis-led change. In this article Emma Calder, Senior Consultant in our FMCG practice, talks to Debbie Inglis, a Business Transformation Director, and looks at how this accelerated change has affected marketing teams and the skills needed to allow a business the agility to change.
Business agility is currently the 'talk of the town'. This is an organisation-wide change of mindset and adoption of agile practices by each function. The path to business agility is not prescriptive with each organisation's journey tailored to its circumstances.
What is Business Agility?
Organisations that embrace business agility are able to:
• adapt quickly to context and market changes
• respond rapidly and flexibly to emerging customer needs
• adapt and lead change in a productive and cost-effective way without compromising quality and,
• as a consequence, to continuously be at a competitive advantage.
What is an Agile Business?
An agile business is an organisation that embraces the agile philosophy and values at its core, from its people and culture, to its structure and technology. Consequently, an agile business is customer-centric. An agile business can respond quickly and effectively to opportunities and threats found in its internal and external environments (be they commercial, legal, technological, social, moral or political).
The Benefits of Business Agility
In the global 2020 Business Agility Survey, responding companies highlighted several key benefits of business agility:
| | | | |
| --- | --- | --- | --- |
| | | | |
| Commercial benefits | Organisational benefits | Workforce related benefits | Faster adaptation to COVID |
| Speed to market and customer satisfaction | Collaboration, communication and better ways of working | Motivation and employee satisfaction | Competitive advantage |
Figure 1: extract from the 2020 Business Agility Survey, Business Agility Institute
"Our adoption of Agile has facilitated meaningful, focused cooperation between different disciplines and promoted a strong team ethic with regular, close communication. Continuously improving processes, outputs, and ways of working gave us the freedom to adapt to changing circumstances at pace – something that proved vital.
Dominic Bloch – Content Production Lead. Sky.
What is an Agile Business?
Many of today's largest companies adopted business agility at the beginning – putting the customer at the centre – such as Amazon, Google and Apple. Notably one of Amazon's 5 values is being customer obsessed. So an agile business is a truly customer centric organisation and this of course brings marketing front and centre.
Marketing leaders who own the customer relationship now have a unique opportunity to be agents of change, ensuring that all colleagues are empowered by direct line of sight to the end customer. All of this at the same time as consistently putting the customer first in all they do.
'Be the change you wish to see' – Mahatma Ghandhi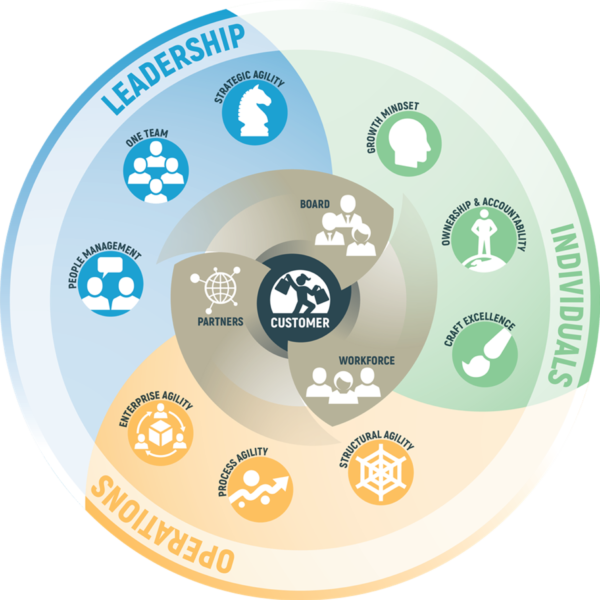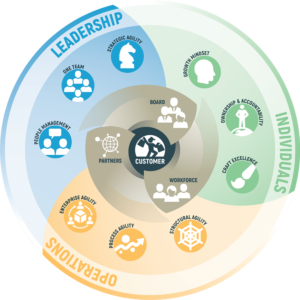 Figure 2: The Domains of Business Agility. (Business Agility Institute)
What is the Role of Marketing in Business Agility?
Delivering exceptional customer experience is the key, so we're seeing more and more FMCG organisations make sure they have a marketing team that is adept at identifying, understanding and reaching their customers. Having spoken to marketing leaders in the FMCG sector, we have identified five main areas of focus:
1) Understanding Your Customer
Detailed analytics of sales, markets and operational data is a good start in understanding the customer, but it's what is done with this information that separates an agile and adaptable organisation from everyone else. Marketers that use this data alongside market research, ethnographic insights, and good old-fashioned conversations with customers are in high demand. This information can then build clear personas and empathy maps to understand who the customers are, what they think about, and how they feel. These are very helpful in guiding strategic and tactical decisions. Finally, make sure that everyone in the organisation has direct line of sight to who your main customer is. Don't keep ownership of the customer siloed within one function. Your aim should be to make the whole organisation a 'customer-centric organisation'.
2) Measuring your 'customer understanding'
Where are you on your customer understanding journey? Here's a useful diagnostic tool:
Crawl


Walk

Run
 

Fly


Understand the Customer
We use detailed analytics to understand our customer's usage and requirements of our products and/or services.
We have started to use tools such as empathy maps, customer journey maps, and defined personas to understand our customer. We have objective measures of the end-to-end value we create for them.
We understand our customer's experiences, needs, and mission through direct engagement with them. We have developed a deep empathy, which guides our business decisions to meet their expectations.
Our products and services consistently resonate with our customers and can delight them in a measurable way.
Customer as Purpose
Our strategic vision is clearly aligned to customer value, yet operational decisions tend to prioritise company profits.
We have developed a clear vision of customer value, which guides decisions at all, levels of the organisation and creates a culture of customer orientation.
There is strong alignment between what the shareholders, executives, team members, and customers want.
Our organisation structure, policies, and procedures incentivise our teams to act in the customers best interest at all times. When there is a trade-off between what is good for the customer and what is good for the company, we prioritise the customer.
Figure 3: Measuring your Business Agility Maturity. (Business Agility Institute)
3) Developing Customer Journeys
A customer journey tells the story of a customer's experience with your organisation. Mapping their journey identifies key interactions with the customer as well as expresses the customer's feelings and motivations at each of these interactions. When articulating the journey, it is important to document how the customer is interacting with you, the timeframes, the start and end points of the journey and the KPIs. Net promoter score (NPS) and customer effort score (CES) are useful tools for understanding your customer's experiential pleasure and pain points. Outputs are helpful for guiding customer experience design improvements to create exceptional customer experiences.
4) Acting with Integrity and Transparency
How do you build trust? Building credibility and rapport, acting with fairness & integrity, sharing knowledge, being transparent are good starts. In the book "The Trusted Advisor," the authors offer "The Trust Equation" which measures trust using four variables: credibility, reliability, intimacy and self-orientation.
The equation is: T = (C+ R + I) / S.
It's also worth mentioning that trust is often based on perception and public opinion, rather than reality. In an ideal world, they should be the same but acting with confidence and displaying empathy is good way of building trust at the start of a relationship.
5) Delivering an Authentic Customer Experience – as an Organisation
The refrain in many businesses has been about putting the customer at the centre of everything you do. In today's world new buying behaviours, channels and technologies provide more ways of delivering engaging, customer-centric experiences at every organisational touchpoint. The overall aim should be to deliver an authentic and consistent total customer experience that is designed around their needs and aligned with the business strategy and your organisation's purpose – at all customer touchpoints, across all areas of the organisation.
While business agility is not a silver bullet, changing mindsets and ways of working are helping businesses to develop deep customer understanding. This will unlock profitable, sustainable growth. Marketing teams are at the forefront of this change and are pivotal in giving customer insights, and promoting a truly customer-centric organisation.
tml Partners is an international executive marketing recruitment firm specialising in board level appointments across marketing and corporate affairs. To learn more about how Emma Calder and the team at tml Partners can support the growth of your marketing function please get in touch at  emma.calder@tmlpartners.com