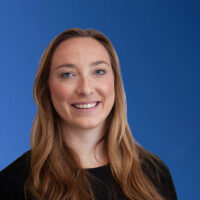 Niamh Bailey is an Associate Consultant at tml partners, specialising in our financial services sector, specifically supporting with Fintech and Payments.
After completing a BA Hons in Footwear Design and MA in Bespoke Footwear Biomechanics, Niamh chose to pursue her sporting career as a Heptathlete. Over the years she has had the opportunity to represent Great Britain and England on a number of occasions. Unfortunately, lockdown hit in March 2020 and training in the garden resulted in a career ending injury, rupturing two ligaments in her ankle and the need for reconstruction surgery.
Fortunately, alongside her training Niamh was working part time gaining marketing experience for both a financial advice business and a wellbeing centre, which after injury immediately progressed into full time work and shortly after the managing of the wellbeing centre. Her experience to date has given her the insight into the importance of networking and relationship building and the skill of listening; a key focus here at tml Partners.
Niamh is keen to kickstart and progress her career at tml partners in recruitment and is looking forward to working alongside marketing professionals to help to assist with finding new career opportunities, whilst working in partnership with her clients to find the right professionals to help support and grow their businesses for the future.
Read More Insights from Niamh Bailey