What is diversity in the workplace and why is it important?
Diversity involves the inclusivity and embracement of individuals from a range of different backgrounds with an array of different characteristics. This could include ethnicity, gender, race, age, religion, sexual orientation and disability. As well as being the right thing to do, diversity could give a business the upper hand by bringing a wealth of different perspectives to the table, which could ultimately lead to increased creativity and innovation, thus potential market growth. 
This is a monumental factor in itself, let alone the potential benefits to the entire workforce on a less tangible level. By creating a diverse workforce, you are displaying a versatility and level of staff acceptance and satisfaction that competitors may not have. In a society of innovation, linear thinking and a linear workforce can be costly to the global reputation of a business.
Diversity in Marketing – The Current Situation
With marketing being creative in nature, it is essential for senior leadership teams to evaluate and act on their diversity quota to drive market growth and capitalize on the aforementioned wealth of different perspectives.
A recent report by tml Partners, in collaboration with VERCIDA, suggested that 52% of CMOs were women which has boosted the pitching success in agencies. This should be celebrated as it is the first time in recent years that the percentage of female CMOs has tipped over the 50% mark. However, the marketing industry has a long way to go in terms of ethnic diversity. Only 13% of these women had a racially diverse background, revealing a severe lack of ethnic diversity within the wider marketing industry.
A diverse marketing workforce supports brands to develop a deep connection with the consumer as it provides "a breadth of perspectives, ideas and backgrounds which leads to better products and services", commented Rena Patel, SVP Marketing & Communications at NielsenIQ.
There are also internal culture and hiring benefits. In the Deloitte Global 2022 Gen Z and Millennial Survey, those that are satisfied with their employer's efforts to create a diverse and inclusive environment are more likely (52% for Millennials and 32% for Gen Z) to stay with their employer for more than five years. "For workplaces to really flourish, we need to achieve true diversity with both racial and female representation" added Neela Mistry-Bradshaw, Global Marketing Director, Cloud Services – AWS,
Diversity in the Tech sector
The technology sector is growing rapidly, faster than any other sector, and therefore innovation is pivotal in the sector to help businesses stand out from one another – diversity is one way to enable this. According to a report by TechNation, ethnic minority groups make up 15.2% of the tech industry. This is above the average of 11.8% for all occupations in the UK but still below the percentage of the UK population that make up for ethnically diverse groups.
Females are also underrepresented in the tech industry, making up 25% of the workforce. But this gap is even wider at the executive level, where women hold only 11% of leadership positions in the sector.
"As B2B companies look toward their marketing functions to lead their growth strategies, marketing is in a unique position to demonstrate the powerful impact of diversity and inclusion" said Craig Welch, SVP Head of Research Marketing at Elsevier 
I caught up with the some marketing leaders in B2B Technology who are representing the underrepresented
"I've been working in tech for more than 20 years and continue to experience unconscious bias in the workplace, a lot of this is ingrained culturally. DEI has to stop being a buzzword. Organisations need to start supporting DEI rhetoric with action to truly make an impact." – Neela Mistry-Bradshaw, Global Marketing Director, Cloud Services – AWS, SoftwareOne
"Greater D&I can be accelerated by increasing the diversity at the most senior levels within marketing and technology, especially as it relates to ethnicity. In order for this to happen companies need to put real intent into their diversity and inclusion efforts – this will not happen organically." – Craig Welch, SVP Head of Research Marketing at Elsevier 
"As marketing leaders, we have a responsibility to our future generations – our own teams and our audiences. Diversity is a constantly evolving space. How can we deliver inclusive marketing to our diverse audiences if our own talent pools lack true representation and possess only a superficial understanding of cultural intelligence? True customer intimacy is possible only if we commit to it, set baseline expectations and make it a priority. It takes time, effort and resources. As D&I takes centre stage in hiring across the spectrum including marketing representation at board levels, it is critical that we don't forget that 'Equity' is the panacea for truly diverse and inclusive workplaces." – Bijaya Basu, Global Marketing Director at Sodexo
"Growing up and in my career, I have rarely seen senior leaders who look like me in senior positions, and it forces you to question – how authentic are they with diversity? Diversity in marketing is essential for any company that is looking to build a diverse team and retain talented women, minorities, and people with disabilities. A diverse team brings the right minds together to drive change and innovation which will ultimately find its way back into your business plans and products. I have found diversity is a great motivation and inspiration in leaders and as a leader – it helps to drive your business forward, with different perspectives and experiences contributing to better results. In business we are not just looking for talent but also inclusive leaders who want to change the landscape of diversity." – Rena Patel, SVP Marketing & Communications at NielsenIQ
How can recruiters support firms in embracing diversity?
Inclusive and accessible job descriptions are the perfect starting point. Recruiters should ask key questions when reviewing job descriptions for online and offline use.
Can it be understood by everybody?

Does the language exclude a certain demographic or group?

Can it be understood by individuals outside of the organisation or even the niche sector in which it falls?

Is the document, font size, file format accessible?
Recruiters can use a variety of tools and guidelines available on platforms such as Microsoft Office or Google Docs to improve the accessibility of day-to-day documents, for internal and external use. Recruiters could also check with candidates whether they may need additional assistance in the application and interview process. This should be approached with honesty and politeness to ensure the candidate feels comfortable expressing any concerns they may have.
It's also important to consider the placement of job ads in the public domain. In a recent roundtable event with our FMCG team, Eleanor Barker, Global Brand Director at Nomad Foods, discussed how she previously sourced diverse talent to represent the core values of a brand: "In a previous role for a social-first make-up brand for women of colour, we found that traditional job ads were excluding those that could relate to our brand. We overcame this issue by recruiting through our Instagram page, which attracted candidates with incredible social media skills who understood the brand and the consumer".
How are tml Partners supporting the mission for greater diversity and inclusion?
We ensure that our job advertisements and descriptions are inclusive. We have implemented an accessibility function on our website to ensure that we're allowing a diverse pool of candidates to access our resources. We also ensure that we are actively nurturing diverse talent pools in our database.
tml Partners are partnered with specialist ED&I consultants APSCo and VERCIDA, who support us in monitoring the diversity of our talent pools throughout the search and approach process.
Having recently become a certified B Corp, promoting diversity and inclusion in the workplace has become a part of our everyday lives. This has a terrific influence on our internal workforce, as well as hosting key events with a diverse list of experts in a variety of different industries. 
Coming from an ethnic minority background myself, I understand how daunting it can be applying to roles and going through the application process. The interview process here at tml Partners was very inclusive and they continue to reflect that in their service offerings to clients and candidates.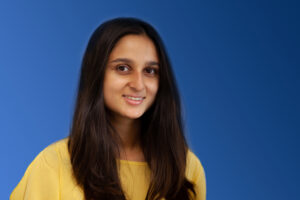 To learn how tml Partners can help your team source diverse marketing talent, please do get in touch: